LES HOPITAUX
LIST OF HOSPITALS AND DR TREATING BIRDSHOT IN THE WORLD
CLIC ON THE PICTURE TO REACH

THIS LIST HAS BEEN UPDATED IN JANUARY 2019 - 123 hospitals to date.and 155 practitioners around the world.

IT IS NOT EXHAUSTIVE AND NEEDS THE HELP OF ALL AND ALL TO BE UPDATED
ALSO IF YOUR TREATMENT CENTER IS NOT LISTENED, PLEASE SEND THE LIST'S COORDINATES TO YOU
BY EMAIL :
NOS PARTENAIRES SCIENTIFIQUES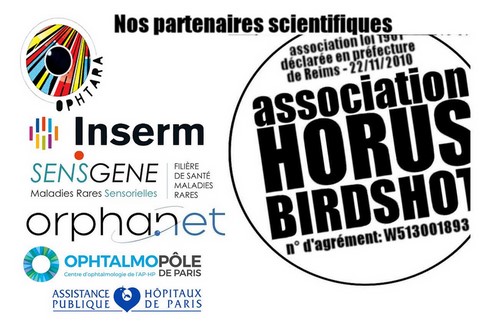 OUR SCIENTIFIC PARTNERS HORUS BIRDSHOT -

1 / Inserm at a glance
Established in 1964, Inserm is a public institution of scientific and technological nature, under the dual supervision of the Ministry of Health and the Ministry of Research. Dedicated to biological research, medical and human health, it is positioned on the entire path from the research laboratory to the patient's bed. On the international scene, it is the partner of the largest institutions engaged in the scientific challenges and progress of these fields.
2 / SENSGENE, a sector at the service of Rare Diseases
of the eye and the ear

3 / OPHTARA: The Reference Center for Rare Ophthalmology

4 / ORPHANET: Orphanet is a unique resource, gathering and improving knowledge about rare diseases, to facilitate and perfect the diagnosis, care and treatment of patients with rare diseases. The goal of Orphanet is to provide high quality information on rare diseases and to provide the same access to knowledge for all stakeholders. Orphanet is also developing the Orphanet nomenclature for rare diseases (ORPHA number), which is essential for improving the visibility of rare diseases in health information and research systems.
Orphanet was created in France by the INSERM (National Institute of Health and Medical Research) in 1997. This initiative became a European effort from the year 2000, funded by contracts from the European Commission: Orphanet has gradually transformed into a Consortium of 40 countries, spread across Europe and around the world.

4 / OPHTHALMOPOLE: Emergencies, high level surgery, hyperspecialized consultations, rare and complex diseases, state-of-the-art technical facilities and local care: the OphtalmoPôle de Paris aims to become one of the leading European university centers for eye diseases .

5 / AP-HP: University hospital with a European dimension recognized worldwide. Our 39 hospitals receive more than 10 million patients each year: in consultation, in emergency, during scheduled hospitalizations or hospitalization at home, at all ages of life. We provide a public health service for all, 24 hours a day

THEY TREAT BIRDSHOT IN THE WORLD
Together we make a list of centers and hospitals that look after birdshots in the world, send us an email (contact@horus-birdshot.fr) with the coordinates of the center that cares for you, cala will help us all, and especially the new patients . Thank you.