News
NEW ITEM ON THE HORUS BIRDHOT ASSOCIATION WEBSITE
Riekus NORTJE !! "The beautiful story" - APRIL 2019
INFO HORUS BIRDSHOT -
News from our ambassador from South Africa, Riekus NORTJE !!

"The beautiful story"

Riekus is a 28-year-old man with a promising future in professional sports. Indeed he is currently a professional golfer on the "Sunshine Tour", one of the most famous circuits in the world. Africa di Sud has already given us many exceptional players (Ernie Els, Retief Goosen, Louis Oosthuizen, ...) but especially a legendary player: Gary Player!
For experienced golfers, these names are well known and recognized, for the uninitiated, we can reasonably compare Gary Player to Zinedine Zidane, one of the best players in the history of his sport!
So we can say that Riekus was born in a country of talented sportsmen.
If health is an asset in this demanding sport, it is not the same for his father, Ferdie Nortje, suffering from the disease of the birdshot apparently ill-treated and because of which he lost a good part of his vision! A misfortune never arriving alone, his uncle, the twin brother of his father, has just learned that he was suffering too!
It is these different factors that have driven Riekus to become our media ambassador, and especially the birdshot ambassador to South Africa and wherever he proudly represents his national colors.
We will follow him as he moves. We will follow his results and, all together, we will give him an extra strength, which, I am sure, will help him even better, to be realized in his difficult career of professional sportsman (I know something !!) but still, in his life as a man!
Thank you again Riekus, and we wish you all the best in the future!
Congratulations to Ferdie, for giving such values to his son!
Thank you all for encouraging and following Riekus.
friendships
Horus Birdshot Mignon Sylvain
#birdshot
LInk : Riekus Nortje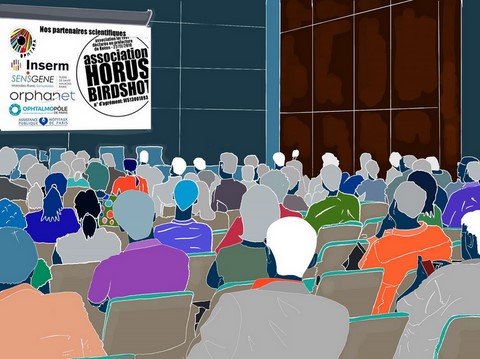 This section will bring together all the important information directly related to the association Horus birdshot.